Public Health Matters: Flu Prevention
Ecolab presents a series of free Flu Prevention Webinars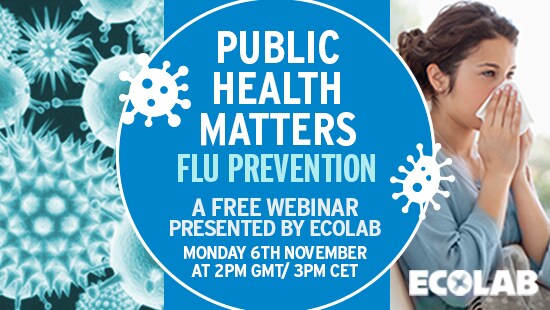 Each year, the flu affects approximately 10 to 30 percent of the European population, negatively impacting workforce productivity as well as putting increased pressure on the healthcare system.* A contagious respiratory infection, influenza or "the flu" is generally transmitted through human to human contact, accompanied by fever and often with respiratory complications.
As part of its flu prevention campaign, Ecolab is hosting a series of one-hour public health webinars across Europe, providing proactive measures you can take to help reduce risk and protect employees and guests.
Join us in English:
Monday, 6 November, 14:00 GMT/ 15:00 CET
Presented by: John H. Hanlin, Ph.D. VP, Global Public Health, and Ian Lamb BSc (Hons), CChem, MRSC Regional Technical Manager, Ecolab.
Find out more and register here
There is no charge for this webinar, but you must register in advance. We hope you can join us.
Even if you cannot attend the live event please still register, because in registering you will automatically receive a copy of the recorded webinar after the event.
For more information please visit: http://en-uk.ecolab.com/pages/inst-eu-seasonal-flu-page
Join us in other languages:
You can also watch the webinar in French on Tuesday, 7 November 14:00 GMT/ 15:00 CET . Find out more and register here
You can also watch the webinar in German on Wednesday, 8 November 14:00 GMT/ 15:00 CET. Find out more and register here
*Source: European Centre for Disease Prevention and Control