ECOLAB Textile Care Division receives "Best New Product" award in United Kingdom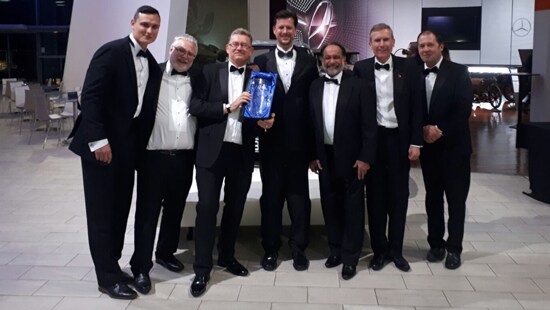 Ecolab Textile Care Team UK holding the award of the "Best New Product"
On 2nd of November 2017 ECOLAB's Textile Care Division UK was recognized in the category "Best New Product" during LADAs 2017 with OxyGuard40, a low temperature washing programme for hospitality textiles. The LADA's are held annually since 2015 to recognize exceptional individuals, companies and products in the laundry and dry cleaning industry of United Kingdom – to celebrate skills, recognize hard work and identify role models.
"We are especially happy to receive this award with an innovation reflecting our daily work in helping make the world cleaner, safer and healthier," said Matthew Dutton, Division Manager of ECOLAB Textile Care UK and Ireland. "OxyGuard40 is the first programme dedicated to hospitality laundries and holding EU Ecolabel certificate. It helps laundries to not only fulfill increasing requirements for sustainability, but also helps to improve their bottom line, in terms of lower operational costs, longer textile life time and better stain management."
Award winners were selected by a panel of experts from the laundry industry and recognized in total in 12 categories.
The LADAs 2017 are hosted by Laundry & Cleaning Today a leading trade newspaper in United Kingdom and sponsored by International Umbrella Association for Professional Textile Care CINET, Guild of Cleaners and Launderers and other representatives from the industry. The full list of the award recipients can be found here: http://www.laundryandcleaningtoday.co.uk/en-gb/theladas.aspx